ATLANTA - November 2, 2020 -- Runners who participate in next year's Publix Atlanta Marathon, Half Marathon and 5K won't have to climb any of Atlanta's famous and relentless hills in 2021. This year's temporary course will be pancake flat. With the uncertain future of events in Atlanta due to COVID-19, Publix Atlanta Marathon Weekend will move to Atlanta Motor Speedway in 2021 and be held as a series of by-appointment races to allow for safe social distancing.
Traditionally held at Centennial Olympic Park, the weekend will remain on its scheduled date of February 27-28. The 5K will be held under the lights of the Atlanta Motor Speedway's NASCAR oval on Saturday night. The half marathon and marathon will be held the next day utilizing the 1.5-mile track, its infield, concourse, miles of service roads and large parking lots. The Publix Atlanta Kids Marathon will be held across both days allowing parents to schedule their children's races in conjunction with their own.
"We know runners and walkers are making their winter and spring plans now," said Rich Kenah, Executive Director of Atlanta Track Club. "By making this decision and announcement now, we are able to provide some certainty in this uncertain time. We are building out a unique, safe experience that is not dependent on public permits."
Atlanta Track Club has consulted with infectious disease experts and followed guidelines set forth by the Centers for Disease Control to implement safety measures to prevent the spread of COVID-19 at its events in 2020. The 2021 Publix Atlanta Marathon, Half Marathon and 5K will be a contactless experience. All participants, spectators, staff and volunteers will be required to undergo a health screening prior to entering Atlanta Motor Speedway. Masks must be worn by all except during the race itself. Participants will start in waves of up to 50 people with up to five minutes between each wave. The marathon and half marathon will be capped at 5,000 combined participants and the 5K will be capped at 3,000 participants.
All participants will be required to carry their own hydration and fuel with touchless refill stations available on the course. Post-race snacks, refreshments and medals will be prepacked and available to all finishers before exiting the race area.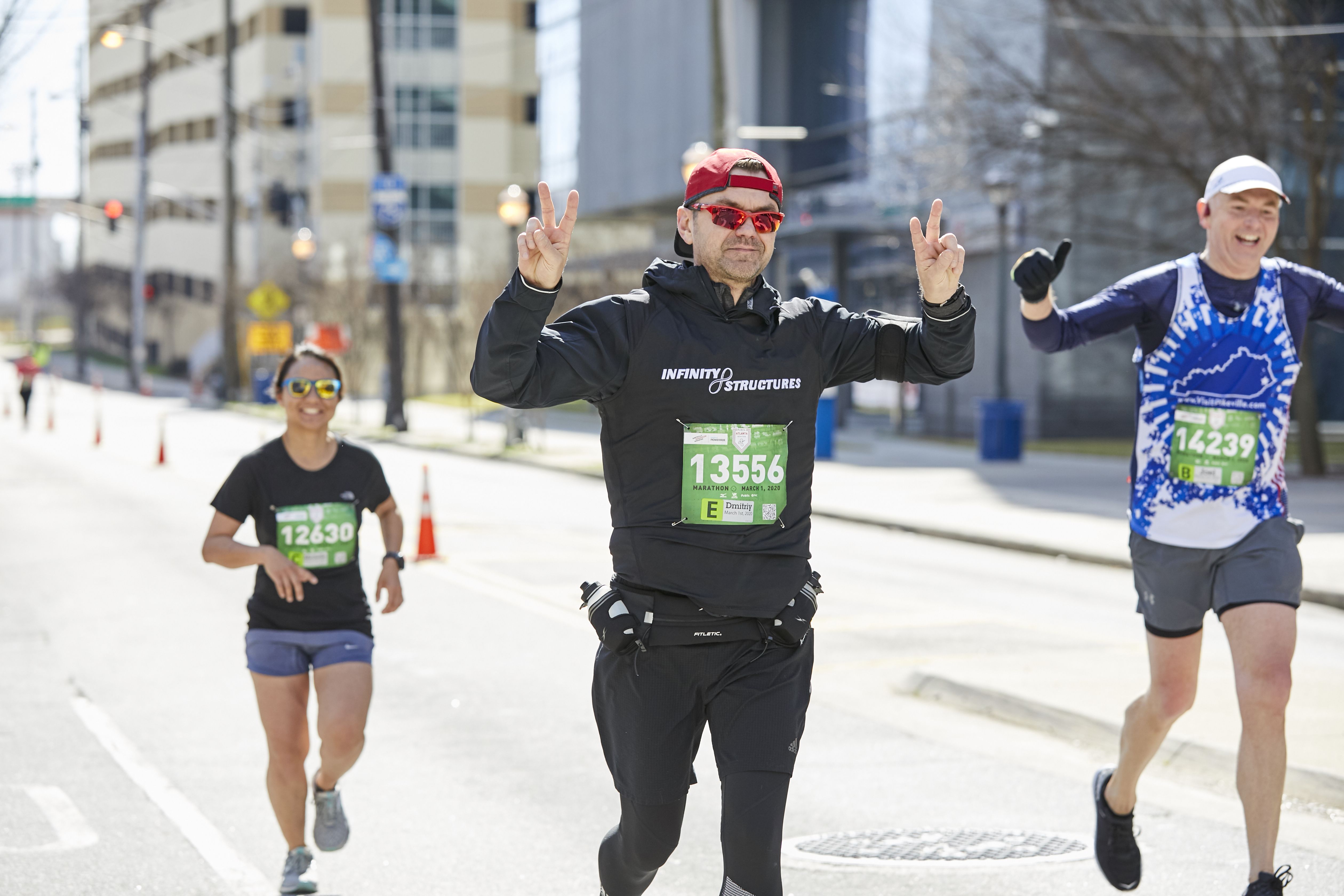 Registration fees are currently $100, $80 and $20 for the marathon, half-marathon and 5K respectively. The Publix Atlanta Kids Marathon has a dash option for $10 and a mile for $15. Registration includes a participant shirt and finisher's medal. Participants can sign up and choose their time slot at atlantatrackclub.org. Previously registered participants were offered the option to move to the new location or a full refund. If the event is canceled due to COVID-19, refunds will be offered.
Due to the uncertainty of COVID impacts on indoor gatherings, the Publix Atlanta Marathon will not offer an expo in 2021. Race number pickup will happen on site at Atlanta Motor Speedway on your respective race days. There will also be opportunities for participants to purchase official race merchandise and safely interact and engage with race partners including Publix and Mizuno. The expo had been scheduled at the Georgia Aquarium for the first time. Those aquarium plans will be pushed back to 2022.
Located just 25 miles south of Atlanta in Hampton, Georgia, Atlanta Motor Speedway encompasses 840 acres of private property. It holds two premier NASCAR events each year, one of which will be just three weeks after the Publix Atlanta Marathon Weekend.
Atlanta Track Club has successfully held five in-person events following the race-by-appointment format since July including the three-race Publix Summer Series which was held at private venues throughout the summer and the PNC Atlanta 10 Miler & 5K at Michelin Raceway Road Atlanta on November 1.