Thanks for printing! Don't forget to come back to Atlanta Track Club for fresh articles!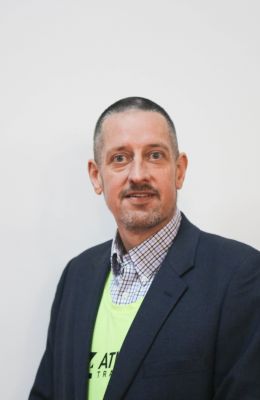 Hometown: Military Brat, but in Atlanta since starting at Georgia Tech in 1986.

Atlanta Track Club Member: Six years

Favorite Atlanta Track Club Event: AJC Peachtree Road Race

Favorite place to Run in Atlanta: Lilburn Greenway
My running career started when…
I ran cross-country in Omaha, NE as a sophomore in high school
I joined Atlanta Track Club because…
I didn't get into the AJC Peachtree Road Race one year
My most memorable running experience was...
Walt Disney World Marathon in 2014 with my wife.
My craziest running story/moment was...
In 1990 While in the US Navy, my ship entered a team in the the Mt. Rainer to the Pacific relay. I fell in a hole in the middle of the night and limped into the exchange point covered in blood, thankfully nothing broken. Medic stitched me up and I somehow ran my third leg so no one had to run extra.
The one thing I want everyone to know about Atlanta Track Club...
The more you do with Atlanta Track Club, the more you will love it.
I run (to/for/because)…
For lots of reasons: Fitness, a way to clear my head when I run alone, a way to spend time with family and friends, because I'm competitive, because I don't feel good when I don't run