Northside Beltline 3K - 5K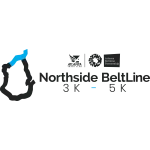 Atlanta's favorite running and walking destination and Atlanta's historic running and walking organization are teaming up to bring races back to the BeltLine. Atlanta BeltLine Partnership and Atlanta Track Club will expand their partnership in 2022 to include a series of events on the BeltLine's most popular sections. The first stop of the series takes us to the Northside near Bobby Jones Golf Course.
For Atlanta Track Club's current policies concerning COVID-19, click here.

Check out the next stops in the series
DATE & TIME
LOCATION
Northside BeltLine
280 Colonial Homes Dr NW
Atlanta, GA 30309
EVENT SWAG
Short sleeve adidas shirt
3K COST
- $15 through 1/1
- $20 through 2/12
- $25 through 4/10
- $30 through 4/22
- $35 on event day
5K COST
- $20 through 1/1
- $25 through 2/12
- $30 through 4/10
- $35 through 4/22
- $45 on event day

EVENT DAY SCHEDULE
6:30 a.m.
Number Pickup Opens
RACE DAY REGISTRATION
T-shirt sizing and availability cannot be guaranteed for those registering on race day.
Atlanta Track Club intends to hold the Northside Beltline 3K - 5K as scheduled on April 23, 2022. If the format of the event moves to virtual ONLY or is cancelled all together, you will be given the option to receive a full refund (less processing fees from registration vendor). If, due to COVID-19, the location of the event has to be changed, refunds will not be provided, but you will be immediately notified via email and social media.
TIMING & RESULTS
Unofficial results will be available online the afternoon of the event. Results are made official approximately two weeks after the event, after all inquiries have been processed.
Your timing device for this event is the Chronotrack single use B-tag. In order to receive an accurate time, please confirm bib is...
Clearly visible on the front of the torso
Unaltered and unmodified (Do not fold or wrinkle)
Pinned in all four corners
Not covered (jackets, fuel belts, etc.)
Atlanta Track Club is a member organization of both the Road Runners Club of America (RRCA) & USA Track & Field (USATF) and adheres to the guidelines and rules of competition in the events Atlanta Track Club conducts & provides.
COURSE
Course time limit:
3K: 50 minutes (25 minute per mile pace)
5K: 1 hour and 15 minutes (25 minute per mile pace)
For the safety and enjoyment of all participants, pets or wheeled conveyances of any kind, including baby joggers/strollers, are ONLY permitted on the 3K course. They will not be permitted on the 5K course. Headphones are strongly discouraged.

Become a Member
Members of Atlanta Track Club get to participate in 7 free events throughout the year! They also receive discounts on all events and programs as well as guaranteed entry into the Atlanta Journal-Constitution Peachtree Road Race!

Event Sponsors
a logo with a red and blue triangle and a blue circle