2023 INVESCO QQQ THANKSGIVING DAY HALF MARATHON, 5K, MILE & DASH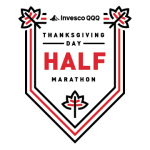 Kick off your Thanksgiving with the Invesco QQQ Thanksgiving Day Half Marathon, 5K, Mile & Dash. It's an Atlanta tradition! Runners and walkers will start their race under Atlanta's iconic Olympic rings, then stick around for a post-race celebration. You'll want to bring your medal and your bragging rights to Thanksgiving dinner.
Atlanta Track Club events are held rain or shine. However, the threat of lightning or other severe weather in the vicinity of the event may result in a delay or cancellation. For full details on our event policies, including weather, refunds and cancellations, click here.
Date & Time
Thursday, November 23, 2023 - 7:30 a.m.
Location
Center Parc Stadium, 755 Hank Aaron Dr, Atlanta GA 30315
2023 RACE PRICING
NOV 25, 2022 - NOV 30, 2022

$55 HALF MARATHON
$30 5K
$15 MILE
$10 DASH
DEC 1, 2022 - DEC 31, 2022

$75 HALF MARATHON
$30 5K
$20MILE
$15 DASH
Become a Member
Members of Atlanta Track Club get to participate in 7 free events throughout the year! They also receive discounts on all events and programs as well as guaranteed entry into the Atlanta Journal-Constitution Peachtree Road Race!

Event Sponsors
a logo with a black background